Knowledge platform ESKP of the Helmholtz Association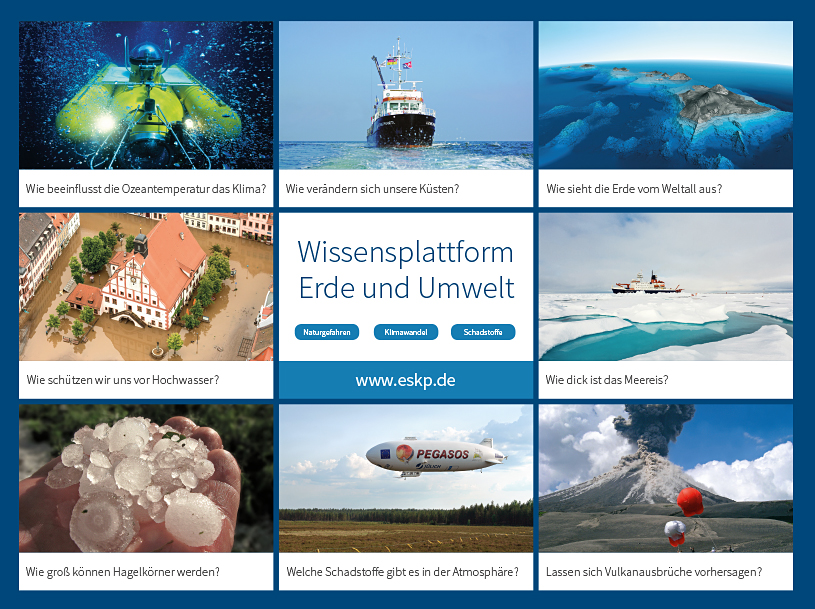 The knowledge platform Earth and Environment "Earth System Knowledge Platform", ESKP, of the Helmholtz Association is online since May 2014.
ESKP is an information pool and a central point of contact for the community. Existing knowledge of eight Helmholtz centers involved in ESKP, is treated to be understandable for different groups of the society (e.g. authorities, politicians, the media, and the public). At present these are current research activities and established background knowledge on the impact of climate change, natural hazards, and the dispersion of pollutants in the environment. The offer of information includes articles, interviews, real-time data, graphics, photographs, images, and movies. The offer is completed by literature references to scientific publications, but also by brochures intelligible to all. Moreover, the experts of the research centers are available to answer your questions.
The Institute for Meteorology and Climate Research (IMK-TRO) of KIT is contributing to the areas "natural hazards" (focus: summer and winter storms) and "dispersion pollutants in the environment".
More information can be found in the press release of KIT.