6. REKLIM Regional conference in Karlsruhe
SAVE THE DATE: REKLIM conference on October 5, 2016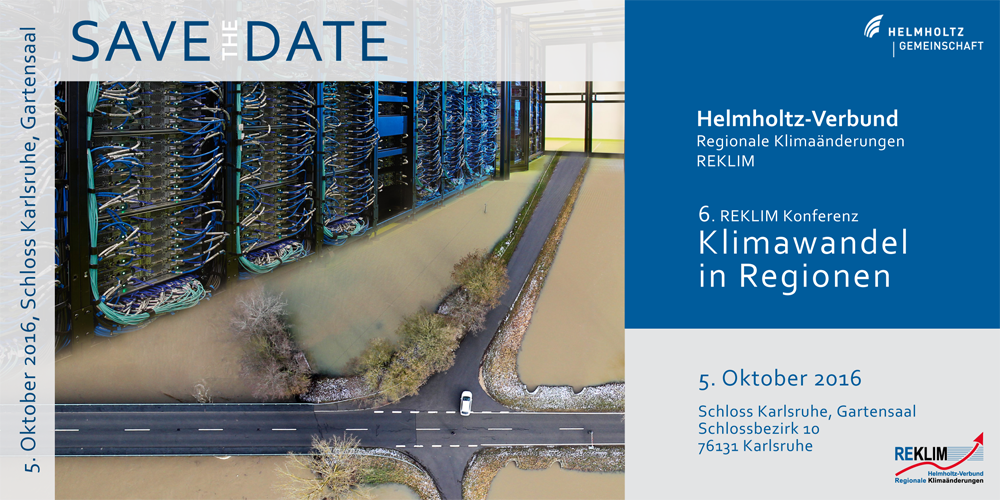 Research

 

High Performance Computing 

ForHLR II of KIT (photo: A. Drollinger, KIT)


Danube

 

flood

 2013 (photo: Marco Kaschuba)


From the basics to adaptation
The Helmholtz Climate Initiative (REKLIM, Regional climate change) invites you to its 6th regional conference in Karlsruhe on 05/10/2016. REKLIM was founded in 2009 with the aim to examine the regional implications and consequences of climate change.
The focus of this year's event are the following two issues:
Challenges of climate modeling
Extreme events

There will be contributions from scientists from the research association REKLIM as well as representatives from the insurance industry and the municipalities.

For conference program with lectures and panel discussion bear among other things:
Daniela Jacob, Director of the Climate Service Center Germany
Gero Michel, Managing Director of the Copenhagen Office, Chaucer
Norbert Hacker, Head of environmental and occupational safety of the City of Karlsruhe

For more information and to register, can be found here.