AERO-TRAM
Contact:

Dr. B. Vogel, Dipl.-Met. R. Hagemann

Project Group:

IMK-TRO

Funding:

BWPLUS / Land B.-W.
Beschreibung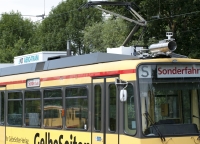 Mittels einer Straßenbahn als Messgeräteträger werden Immissionen ausgewählter gasförmiger und partikelförmiger Luftbeimengungen in einem urbanen Ballungsraum in Baden-Württemberg (hier am Beispiel von Karlsruhe) untersucht. Ziel des Projektes sind die weitgehend automatisierten Langzeituntersuchungen der Luftqualität im Raum Karlsruhe. Der von dem Karlsruher Verkehrsverbund (KVV) für das Projekt bereitgestellte Stadtbahnwagen wird auf zwei verschiedenen Linien eingesetzt. Die Messgeräte erfassen somit sowohl stark mit gas- und partikelförmigen Schadstoffen belastete Gebiete wie auch Regionen, die lediglich eine Hintergrundbelastung aufweisen. Somit können Stadt- Umlandeffekte in der Schadstoffbelastung mit einer hohen räumlichen Auflösung identifiziert werden. Darüber hinaus liefert das Projekt einen wertvollen Datensatz für die Validierung von numerischen Simulationsmodellen.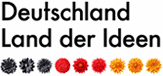 "Land der Ideen": Award for AERO-TRAM
As part of the competition for innovative ideas the AERO-TRAM was awarded. It has been developed and operated by the IMK-TRO in collaboration with the Karlsruhe public transport operators and the company enviscope. The city railway measures air quality in the greater area of Karlsruhe. The award was presented during the annual celebration of KIT 2011 to the leading scientists of the project, Dr. B. Vogel and Dr. U. Corsmeier.
More about "Land der Ideen"
Messgrößen und Projektziele
Messsystem
Straßenbahnlinien S11 und S2
Dokumentation
Projektleiter IMK
Prof. Dr. Christoph Kottmeier *
Tel.: +49 721 608-22800
Fax: +49 721 608-24742
E-mail: christoph.kottmeier∂kit.edu
Dr. Bernhard Vogel *
Tel.: +49 721 608-24233
Fax: +49 721 608-24742
E-mail: bernhard.vogel∂imk.fzk.de
Dr. Ulrich Corsmeier *
Tel.: +49 721 608-46934, +49 721 608-22843
Fax: +49 721 608-46102, +49 721 608-24742
E-mail: ulrich.corsmeier∂kit.edu

* Institut für Meteorologie und Klimaforschung
Karlsruher Institut für Technologie (KIT)
Postfach 3640
76021 Karlsruhe


Projektleiter VBK
Dipl.-Ing. Alexander Wetzl
Verkehrsbetriebe Karlsruhe GmbH
Wikingerstr. 36
76189 Karlsruhe
Tel: 0721 61075505
Fax: 0721 61055509
E-mail: alexander.wetzl∂vbk.karlsruhe.de